We build solutions for integrating numerical algorithms and implementations into business and engineering processes in large organisations.
Business model
Our business model is designed to offer you assurance that you will build a long-term solution that we, yourself, or third parties can offer to support.
We license off-the-shelf and custom software components. We charge an one-off fee negotiated in advance that include a short initial period of support to get you going. The software runs on your cloud accounts or on your in-house computing and you get full source code to give you assurance that this is a durable long-term business solution.
After the initial period, if you need it, we offer separately negotiated support and maintenance on time & materials basis.
Engagement Process
The process designed so that our customers can get the software they need without risk of hiring specialised software engineers and at a relatively low cost based due to use of reliable open-source solutions and custom ready-made components.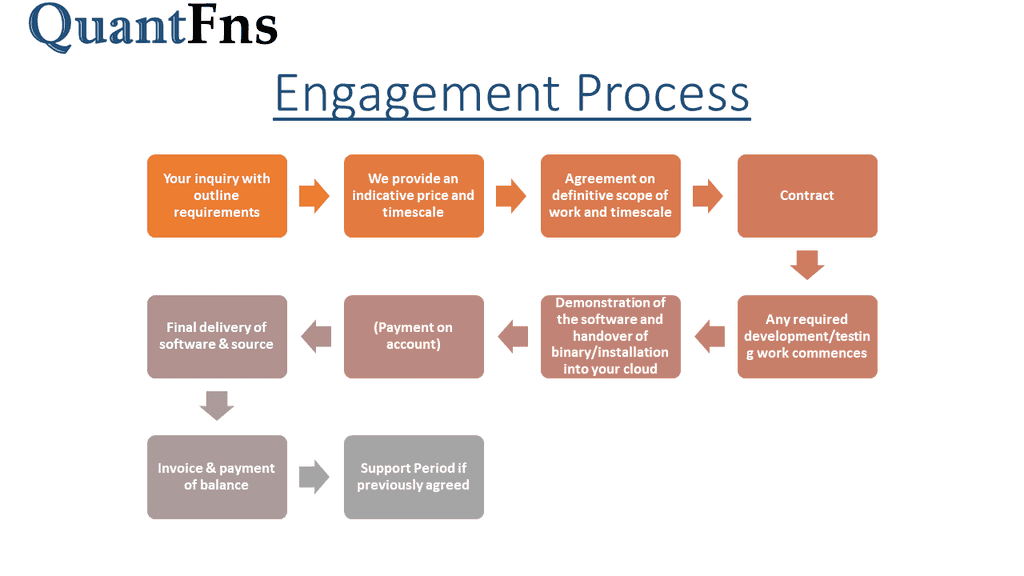 Contact us info@quantfns.com or at Contact Page with outline of your requirements
Most of our work involves combination of open-source modules, our existing library of proprietary modules and custom work. We will at this stage give you rough indication of likely cost and timescales
We together agree on definitive scope of work and testing to be done on the components.
A contract is agreed with a firm fixed price. For larger projects there may be a multiple stage contracts.
The required development and testing work is the carried out by us at our facilities
We demonstrate the software and install at your (cloud) facilities if needed
Usually a payment on account will be made at this stage but this may not be necessary for smaller projects or for well established counterparties
Final delivery of software, the source code and scripts to reproduce the installation. You confirm to us everything is as agreed in contract
We invoice for the full amount
Any extended support agreement begins after final delivery, terms can be negotiated separately or during the original contract drawing up stage
Our areas of expertise
Interfacing of low-level routines to languages like Python, Java and .Net/CLR (e.g., with SWIG, PyBind11, JNI, etc)

Reproducible builds with complete software supply chain control

Deployment to serverless/cloud facilities

Data models to integrate numerical algorithms with business logic

Applications to financial markets and engineering